Flight Purchase

Flight Schedules

Flight Locations

Your Flight

About Us

Health & Safety

In Flight Photos

Feedback & Video

External Links

Contact Us

Sitemap

1000th flight blog
Follow us on

Facebook




Hot air balloon rides - Scotland & Northumberland
Now celebrating 15 Years of Operations
Alba Ballooning offers hot air balloon rides near Scotland's capital city of Edinburgh and its surrounding picturesque Lothian and Peeblesshire countryside, over the scenic area of Perth & Kinrosshire and Fife, over the history laden Tweed Valley in the Scottish Borders and also over beautiful Northumberland from near Morpeth.
We schedule daily flights (evenings and most mornings) between mid-March to late-October and occasionally fly in the winter period. Flights typically last around one hour and the whole trip 3 to 4 hours. We currently operate any of our three balloons which have baskets to accommodate up to 6, 9 or 12 passengers in 2 or 3 person compartments which are comfortably padded and safely high sided. We particularly pride ourselves on giving a consistently personal, local and professional service as our customer feedback testifies.
"I'd just like to let you know how much we enjoyed ourselves. It truly was an amazing experience and one that I won't forget! Lauren H." 6th November 2014
"Thank you so much for the flight it was amazing. I will defo be booking another. Was well worth the wait. Carrie P." 30th October 2014
"Thoroughly enjoyed the ballooning experience, it was fantastic from start to finish and have been highly recommending Alba Ballooning to friends and family and via Facebook! Isla M." 13th October 2014
"We had an amazing time. Thanks for your efforts last year and for getting us flying last night! Just a brill experience. Siobhan M." 15th April 2014
"Thanks for a lovely experience, better late than never, beautiful night and smooth flight, would love to do it again. David B." 14th April 2014
"I had a fantastic trip. The views were brilliant, I felt really safe and just had a great time. Everyone else there seemed to really enjoy it too. I'd definitely recommend this to my friends and family and would buy a voucher for them too. It was a brilliant 40th birthday present! Miriam M." 5th Oct 2013
"Had an amazing flight this morning. Beautiful. Thank you so much. Would definitely recommend. What a gorgeous and surreal experience. Claire M." 26th Sept 2013
"The superlatives have all been said and I totally agree with them all. The focus on safety and the professionalism of the pilot were first class. Ian A, HSE Manager." 12th Sept 2013
"Thanks for a fantastic flight last night over Midlothian. We had a brilliant time and both loved it. Jim and Loraine P." 29th August 2013
"Thank you for a great trip last night - very enjoyable, and well organised, and one of the best things I've done. I'll definitely be coming back for another flight. David P." 28th August 2013
"Thank you very much for the photos and for the amazing flight. :) Sylwia J." 27th August 2013
"Thanks for the pictures and an excellent experience yesterday. Martin D." 27th August 2013
"Thanks, great experience, would recommend. John L." 27th August 2013
"Thoroughly enjoyed the flight and would highly recommend it to anyone. A lot of friends & family have been asking how we enjoyed it and we've been delighted to tell them it was fantastic. John and Sandra B." 23rd August 2013
"Many thanks indeed from both of us for a truly superb Balloon Flight experience last night across Kinross and Fife. It was absolutely superb and we will certainly be recommending it to our friends. Duncan & Alison M." 22nd August 2013
"Fantastic experience on Wednesday morning flight. Just superb! Steve M." 16th August 2013
"Excellent adventure! Great experience, the only way to view such fantastic scenery. Kevin & Catriona D." 14th August 2013
"Thanks for sending the photo so promptly - and thanks also for masterminding a wonderful flight on Tuesday evening - we really enjoyed it. Margaret and Michael C." 8th August 2013
"Thanks for a great flight on Sunday night! We managed to find our camera and all in working order too... Thanks again. Jamie." 6th August 2013
"Had a great time Don't know when I last felt everything so peaceful. The weather was really good and the views from up above spectacular. Andrew R." 5th August 2013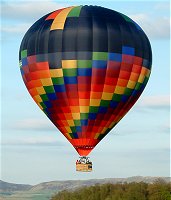 All flights are of course weather dependent so some perseverance is generally required - but we aim to make the reward worth any wait! Why should you choose to fly with us? Unlike many companies, we won't fly you in a 16 passenger 'bus' balloon and neither do we oversell far more places than we can ever possibly fly - everyone has plenty of opportunity to fly quickly after booking with us - and we display our Flight Schedules online (unlike any competitor) for you to see before you buy so there are no unpleasant surprises with us!
You can see the numerous flights we achieve on our In flight Photos page. On each flight, we choose to use a launch site that best suits the wind direction so we don't cut your hour flight short due to the flight direction being unsuitable. All our flight vouchers are part refundable and we give you the option to renew them if you haven't flown by the time they expire. Quality and ethical service has always been paramount for us as our Customer Feedback testifies. Since starting in 2000, we have made over 1000 safe flights (see our 1000th flight blog), flying over 8600 satisfied passengers to date.
If you want a quality of customer service with a personal touch, do book with us!
If you have any questions then please either email us at: info@albaballooning.co.uk or call us:
Tel 01875 830709
You can click on these links for our
brochure
and
booking form
or go to our
Flight Purchase
page to buy a voucher online.
You can click on the these links to download our passenger information sheet and our meeting points maps.
Click on the balloon icons to the upper left or the topic headings below to find out more...